Make beautiful popups that generate Leads.
Banatic is a toolkit for designing beautiful popups. Get started quickly using our built-in templates.
Get Started for free
Learn More
Built for everybody
Our customizable, popup form build system makes creating your next lead engine fast and easy!
Modern responsive design
Featuring carefully crafted, mobile-first components, your end product will function beautifully on any device!
Complete documentation
We have guides to setup Banatic on any site or else we will help you set it up for free.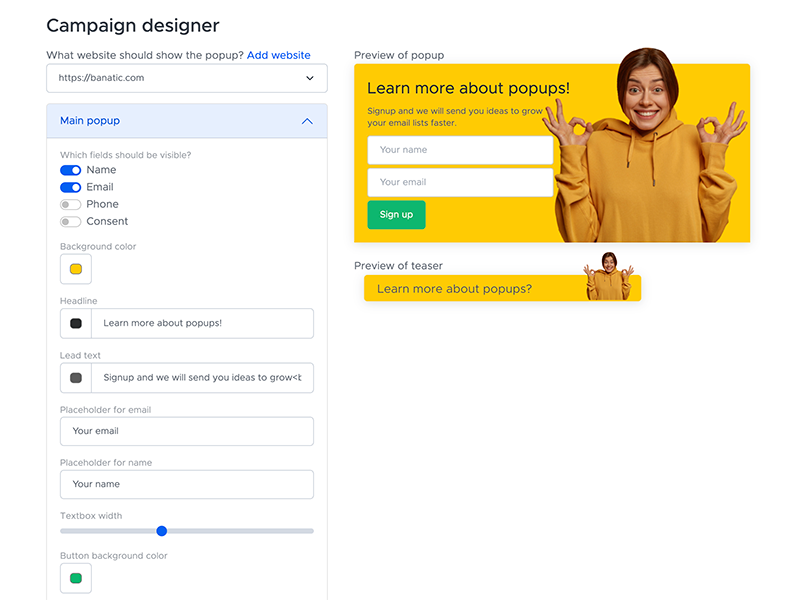 Here's What You Get
You get access to a robust suite of powerful tools and components to help you build your next lead generating popup.
Layouts
Our popup layout options make your site beautifully responsive and adaptable to any device.
Learn More
Placement
All of the popups are flexible and easy to place anywhere on your page.
Learn More
---
What is Banatic?
Banatic is a popup maker for your marketing team, no code needed to make changes in running campaigns.
What can I expect?
Banatic is multipurpose, you decide what you want. Some businesses experience 500% increased lead generation.
Do I get free updates?
All of our feature additions, bugfixes, and other small updates are free.
What frameworks does it integrate with?
Our HTML and javascript are build with framework integration in mind. The compiled code is HTML, CSS and javascript which is able to integrate with any framework.
Save time with Banatic
Start Banatic premium to get full advantage of our integrations with mail providers like mailchimp.
Get started
Simple Pricing
Easy pricing means no suprises.
Ready to get started?
Create an account.
---